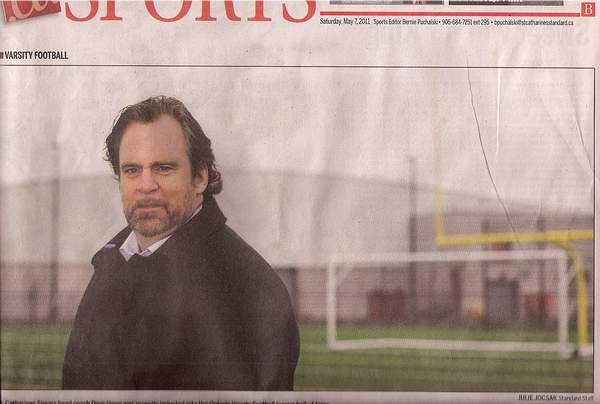 Spears coach a hall of famer
By Bernie Puchalski, Standard Staff
May 2011
The Niagara Spears Varsity football team will have a Hall of Fame leader this season.
Dave Howe, head coach of the team since its inaugural season in 2005, was recently elected into the Ontario Varsity Football League Hall of Fame.
"It's a huge honour and a nice surprise. It's a recognition of what we've built from the beginning in 2004 and what we represent. It's a culmination of where we've been and where we are now," Howe said.
In his six seasons, Howe guided the Spears to three conference championships, winning two and adding an OVFL championship in 2005. He was named the St. Catharines Sportsperson of the Year for 2005 and OVFL coach of the year in 2005 and 2007.
The soft-spoken Howe credits the calibre of players coming to the Spears, which is a function of the dedication of the players and their parents, and the hard work of local high school and minor football coaches.
"All of their groundwork has led to me being privileged enough to be given this honour," he said.
The father of five is a football junkie.
"It's a pure passion for it and I love it. I'm lucky to have a solid coaching staff every year and my executive makes it as easy as possible for me to work full time and to be able to coach."
He loves the challenge of the sport.
"It's like a chess game and an ego game sometimes that you have to keep in check."
Most of all, Howe cherishes the relationships he builds with his players.

"They become like football sons to me and you become attached to them. I keep in touch with them and see how they're doing. And to have an impact on them is a family trait for me. All my family has been involved in coaching."
Howe has coached football in the Niagara and Hamilton area for more than 17 years, including minor, high school and finally with the Spears. The realtor started the football program at Blessed Trinity with Andy Cecchini.
As a head coach, Howe has been successful by letting his coaches coach.
"I've been lucky and blessed that I've had a solid core of coaches; guys like Adam Cook, Larry Bone and Simon Gichard. Those guys have been around for a long time."
He has been able to get his coaches to buy into his philosophy.
"As long as we keep within our guidelines of what I as a head coach think is respectful, I'll just let them coach and let them do their thing."
The Varsity Spears' philosophy is to be prepared and to be flexible on the field.
"Getting to the game field is 99% of the work. One per cent is putting it out on the field on game day. Our practices have to be harder than our games, so when our games come they seem easy."
Once the game starts, the Spears need to be able to adjust.
"Just like in life, if you're not able to adjust, you won't be successful," he said.
More than 100 players tried out for the Varsity Spears this season and Howe can't wait for his team to play its home-opener Friday, June 3, against the Brantford Bisons at Kiwanis Field, the city's new artificial turf field of dreams.
"That field has shot me up with some adrenaline and I'm looking forward to stepping on it and having our whole organization on it. It looks so professional and I can't wait for outside teams to come in and see what a classy facility it is. It kind of exemplifies where we're trying to get as an organization and all of a sudden the field is there too. Everyone is pretty pumped about it."
Howe has no plans to end his coaching duties with the Spears.
"You want to make sure it's on solid ground before you leave and that you leave something behind. Not that we're not there yet, but we're very close to being extremely solid as an organization and in the community. I don't want to give it up until we are burned right into this community."